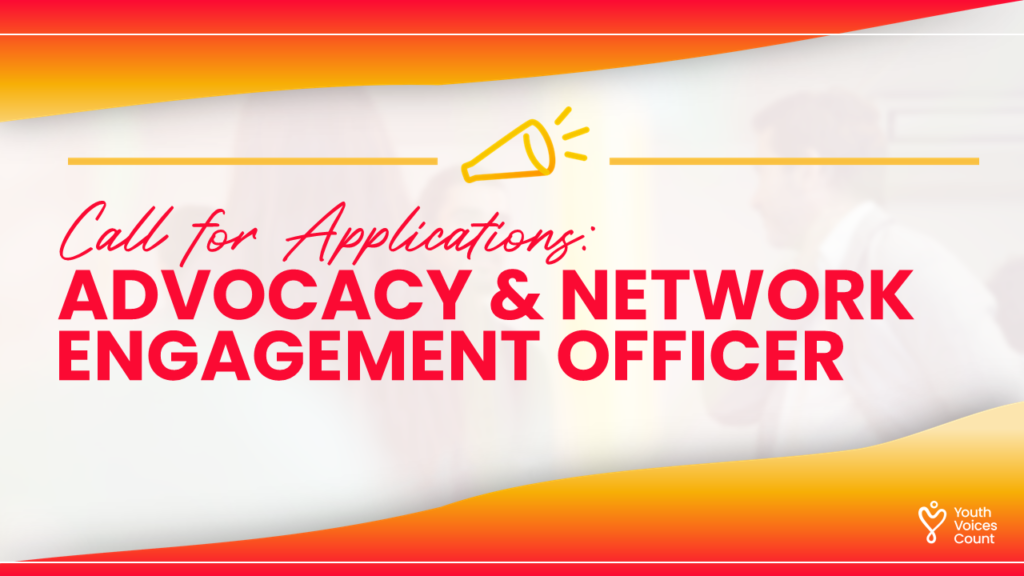 Call for Applications: Advocacy & Network Engagement Officer
By YVC Secretariat – Friday, February 3, 2023
Advocacy & Network Engagement Officer
Youth Voices Count (YVC) is a regional network of young people belonging to diverse sexual orientations, gender identities and expressions, and sex characteristics (SOGIESC). This includes lesbian, gay, bisexual, transgender, intersex, & queer (LGBTIQ) people in the Asia-Pacific area. It advocates for sexual and reproductive health and rights (SRHR), youth empowerment, and human rights issues of young people of diverse SOGIESC. YVC's key focus areas have been advocacy on youth-friendly SRHR service and addressing self-stigma and age-related barriers in accessing SRHR services.
As we venture into further strengthening our regional presence and creating bigger ripples of change, it is imperative for us to have an individual who is committed in making connections, drafting proposals, helping YVC look for ways to continue to fund our flagship and future projects, and more. With this, we are looking for a new staff member to welcome to our team: the Advocacy Engagement Officer.
The Advocacy & Network Engagement Officer shall be hired as part of the YVC Regional Team and will report to the Executive Director regarding the following tasks:
I. Network Engagement

Expand and deepen participation of existing YVC partners and stakeholders;

Build new connections with a diverse range of socio-civic and advocacy groups, particularly those from the adolescent LGBTQIA+ of the Asia-Pacific region;

Ensure queries given by stakeholders and partners are adequately addressed in a timely fashion;

Represent and promote YVC during conferences and fellowships for the purpose of seeking potential collaborators, project implementers, and/or partners; 

Widen YVC's network of members through recruitment;

Think of ways to improve and strengthen the relationship with existing members;
II. Advocacy Support
Coordinate with the Executive Director to write necessary documents for partnerships such as grant proposals, narrative reports, organizational portfolios;

Work hand-in-hand with the Executive Director to manage advocacy and public engagement projects, and develop collaborative strategies;

Write compelling and tailored grant proposals to secure funding opportunities for future programs of YVC;

Assist in engaging and cultivating relationships with important stakeholders, and ensure that proposals result in successful outcomes including understanding their requirements and processes;

Ensure that endeavors with partners and stakeholders are aligned with the vision and advocacy of YVC;

 Lead, manage and create events that will target the LGBTQIA+ youth of organizations and communities.
Ample and extensive experience with writing grant proposals;

Minimum of 2 years experience in advocacy work in Asia-Pacific Region,, preferably in Human rights or LGBTIQ Rights, Youth, environments, and cross-cultural communication;

Demonstrated success in leading advocacy initiatives, off and online public engagement campaigning, and/or project management responsibilities;

Excellent interpersonal, oral, and written communication skills, preferably in English, with proven aptitude for communicating effectively with a variety of audiences;

The ability to effectively support the development and implementation of plans in a collaborative environment both in virtual and in face-to-face settings.
4. Application Requirements
Kindly email the following to secretariat@learninghub.yvc-asiapacific.org with the email subject:"Application for Advocacy & Network Engagement Officer":
› Detailed and updated CV of the applicant
› 2 recommendation letters from previous employers/colleagues/clients

Deadline: February 15, 2023
© 2020 Youth Voices Count