Educating communities towards adopting to a developing future; Thenu Ranketh, Sri Lanka
By Tharindi Devasurendra – Thursday, February 3, 2022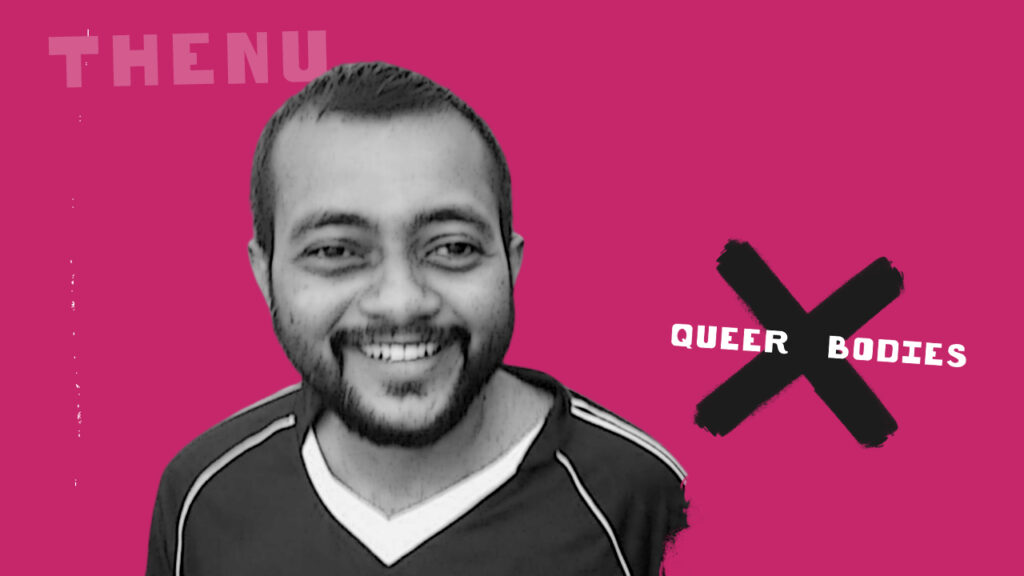 Thenu Ranketh is a passionate transgender activist who has been working towards advancing rights and empowerment for the transgender community in Sri Lanka for a long time. He is the director of Venasa Transgender Network, a non-profit organization based in Colombo, Sri Lanka, that advocates and works for the rights and betterment of the transgender community.
Covid-19 has been an unpredicted crisis.  The LGBT community has been struck down by the consequences of the pandemic.  and many have had to move out  from their homes back to challenging and  a queer phobic environments, such as the homes of unsopportive familes. Some have  tried to relocate to Colombo, the commercial capital of Sri Lanka, but due to costs, safety and security concerns, they've had trouble finding stable homes. The loss of monthly income and savings is one of the most pressing issues affecting the community. Likewise, they have faced multiple problems in accessing healthcare facilities and services, such as  hormone therapy,  transitioning support  and HIV/AIDS prevention as the services provided have been halted  or temporarily stopped  during lockdown restrictions.
Since the start of the pandemic, Thenu has managed to continue providing services to the LGBT community – especially the transgender community in various ways. The Venasa Transgender Network has noticed that many transgender people were suffering from stress and depression due to the unmanageable circumstances, so they been contacting members of the community  to complete a  that would help identify their needs and areas for support. The results of the survey showed a need to provide peer counselling/ professional counselling, financial support to provide food and medicine including hormones, supply for  hygiene products and subsidiary finances for travel and rent. Some members of the community  were in need of  temporary places to stay so Thenu has been able to collaborate with other organizations,  philanthropists and applying for covid relief funds with  donors to support these initiatives.
Like most people, Thenu had to find a way to work from home, despite most of the work being very hands-on. Even though the organisation  have been trying to provide services online to the best of their  capabilities, it was difficult to avoid certain work, such as identifying housing and accommodation for members of the community. For instance,  Thenu was able to secure accommodation in a safe neighbourhood, through  the help of Venasa Transgender Network while following all WHO rules and health regulations to  prevent the spread of the coronavirus. 
One of the biggest challenges Thenu faced was the lack of knowledge and digital skills. Most people within the community do not have access to smartphones or information and skills for using technology devices for communication. To overcome this barrier, he was able to organize a few group discussions with the community toeducate participants on how to access and use smartphones. He mentions that online technology is cost effective and provides a way for people  to engage with more participants in a safe manner. However, Thenu also recognizes and  understands  the risks of encountering technical issues and how reliance on technology can produce a lack of productivity.
Something that struck hard in Thenu's mind during the pandemic was that "we are not ready and that we have no plan to work in this kind of crisis. The huge amount of requests for help and support made them feel helpless." he explains. Therefore, the organisation reacted quickly to  secure a community welfare fund that will provide financial support to make hormone treatments and other forms of health services available and accessible to the community. 
Quote: "We are not yet ready to face some crisis situations that may arise within the community. But we can most certainly prepare ourselves for the future . Therefore, the work we have done up until now will be a starting point for more youth leaders to implement their research and projects towards finding a sustainable crisis intervention plan so that we are better prepared for pandemics and crises to come. "
© 2020 Youth Voices Count