YVC Announces the 2nd Round IGNITE! Empowerment Grants recipients
By YVC Secretariat – Friday, November 8, 2020
Youth Voices Count is glad to welcome November with a fabulous update in our IGNITE! Empowerment Grants programme. The IGNITE! Empowerment Grants was founded and first launched back in December 2019. Until today, it intends to provide seed grants to youth-led LGBTIQ organizations and initiatives from the Asia-Pacific region.
We would like to send our warm congratulations to the second round grantees of Youth Voices Count's IGNITE! Empowerment Grants. To help assess the candidates for the second round of IGNITE!, we revisited some of the notable and exemplary applications from the first round. Taking into account the selection committee comments from the first round and the overall scores, we were able to select our next set of grantees.
For this second round, our grantees from Papua New Guinea, Malaysia, Singapore, India, and Nepal will receive financial and technical support from Youth Voices Count to implement their projects for LGBTIQ youth.
As the safety of our partners is our prime concern, we are working closely with them to identify the most feasible and effective way to implement their projects amidst the current global health emergency.
Get to know our second round IGNITE! Empowerment Grants recipients below.
THE QUEER MUSLIM PROJECT - India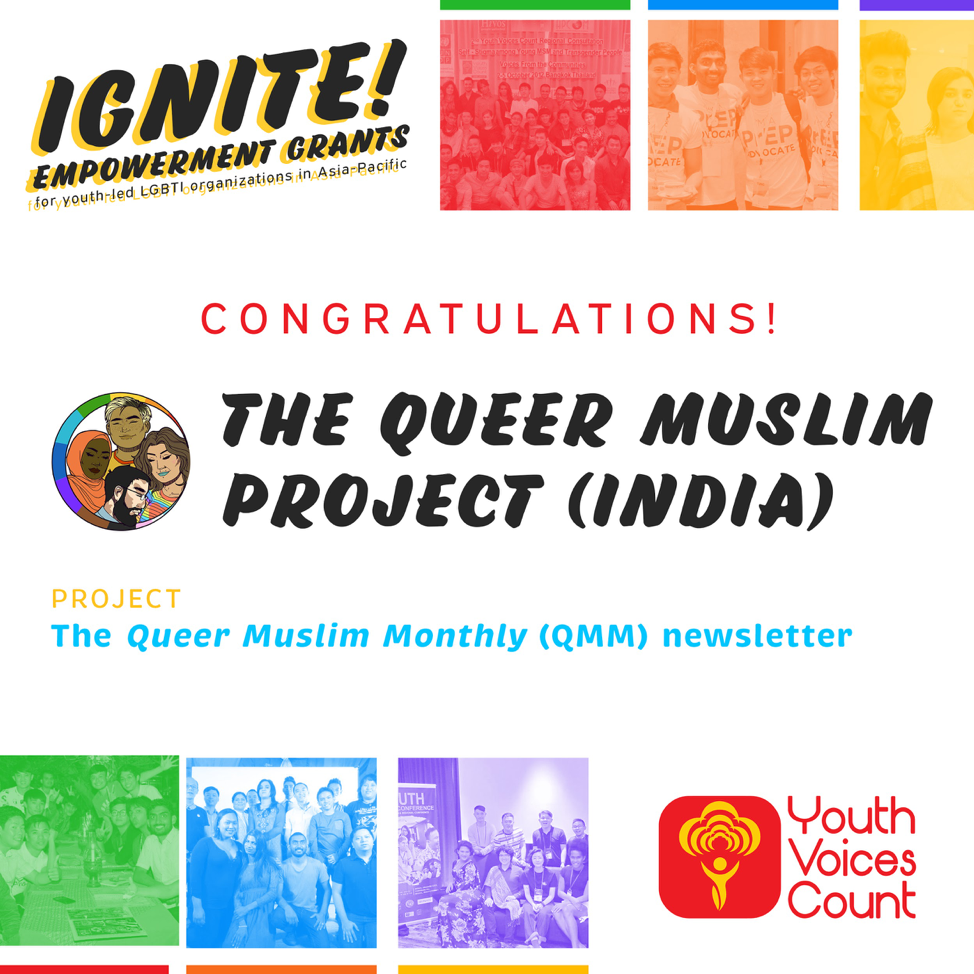 The Queer Muslim Project is one of the largest youth-led online networks of LGBTQIA+ Muslims, with a global community of over 22,000 people and counting. We work to equip LGBTQIA+ persons with the skills necessary to challenge existing narratives of fear and stigma around their bodies and identities through digital storytelling, inclusive faith-based dialogue, identifying adequate legal and mental health support, and creating safe and enabling online and offline spaces.
Learn more about their work here: https://www.facebook.com/thequeermuslimproject/
QUEER YOUTH GROUP - Nepal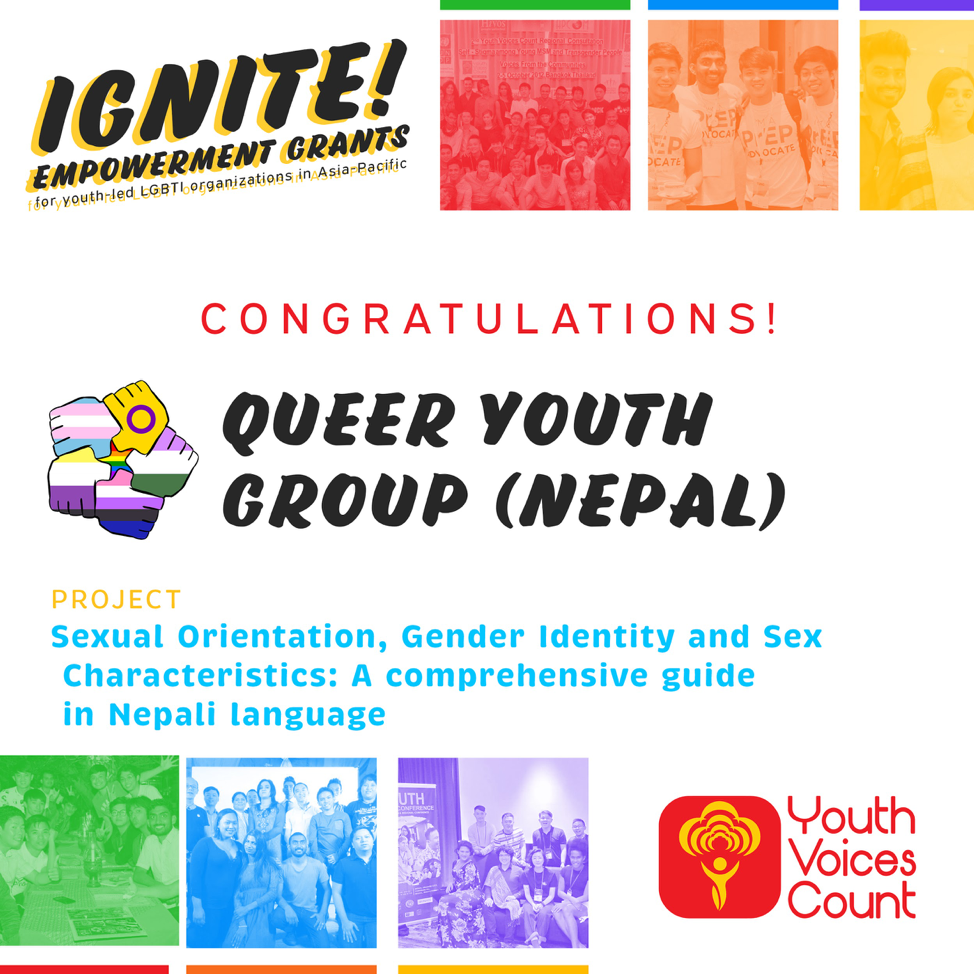 Queer Youth Group from Nepal began as a loose affiliation in 2018, registered as a not-for-profit in 2020 advocates for the rights of people of marginalized sexual orientation, gender identity & sex characteristics (PoMSOGIESEC).
Learn more about their work here: https://www.facebook.com/QYGnepal/
MYRAINBOW & QUEER ASIAN PROJECT - Malaysia
Initiated in 2018, MYRainbow is a non-profit community in Malaysia that seeks to empower LGBTQ+ youth and develop role models for the community. We aim to enable all LGBTQ+ youth to achieve their potential, regardless of where they are through virtual and physical spaces.
Queer Asian Project is our growing global storytelling project initiated by MYRainbow. With the Queer Asian Project, MYRainbow aims to build a digital space for a broader Asian LGBTQ+ community to share their unique and transformative experiences of being queer.
Learn more about their work here: https://www.facebook.com/myrainbowasia/ & https://www.facebook.com/qap.asia/
INTER-UNIVERSITY LGBT NETWORK & YOUNG OUT HERE - Singapore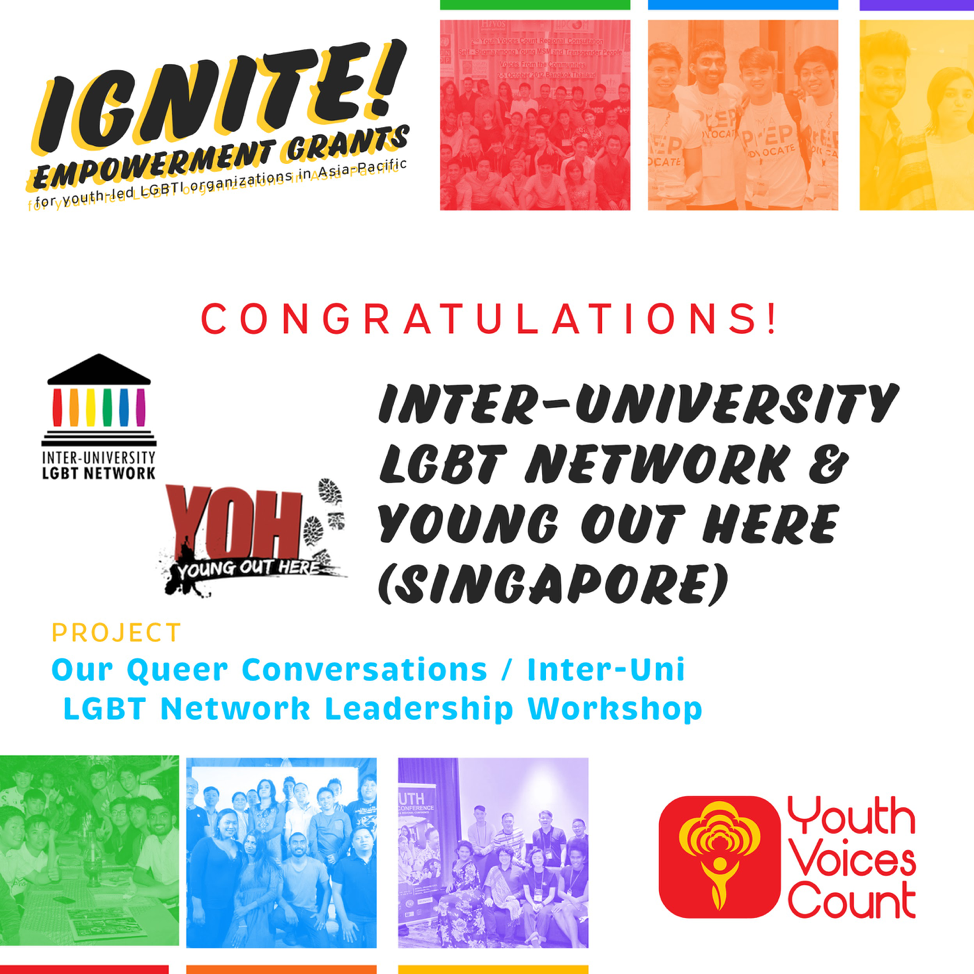 Inter-University LGBT Network is a student-run organisation that collaborates with and maintains the continuity of the various university groups., currently having 8 member groups across universities in Singapore. Our mission is to foster safe and inclusive school communities regardless of sexual orientation, gender identity and expression.
Young OUT Here (YOH) aims to provide a platform for LGBTQ youths to foster healthy identity building, secular and inclusive thinking, enthusiastic learning and moral responsibility through sharing sessions.
Learn more about their work here: https://www.facebook.com/InterUniLGBTNetwork/ & https://www.facebook.com/youngouthere/
YKP PNG & THE KP ADVOCACY CONSORTIUM - Papua New Guinea
YKP PNG is a group of 30 young people trained by Youth LEAD in 2019. The main areas they have prioritized to address in their networks are; addressing stigma and discrimination in health settings, empower young people to protect themselves from HIV, STI and TB, empower young to know their rights and freely access health clinics and building up their leadership skills. The KP Advocacy Consortium was formed in 2018 is a network of Key Population communities in Papua New Guinea formed to advocate for issues affecting the key population communities. The three organizations that are represented in this partnership-network are: Igat Hope (an organisation representing people living with HIV in Papua New Guinea); Friends Frangipani (an organisation representing men and women who exchange sex for money, goods or favour in Papua New Guinea); and Kapul Champions (an organisation representing men of diverse sexuality and transgender people in Papua New Guinea).

Learn more about their work here: https://www.facebook.com/KPConsortiumPNG/
© 2020 Youth Voices Count