Perseverance amidst COVID-19: IGNITE! Grantees Supporting Local LGBTIQ Communities
By YVC Secretariat – Friday, July 23, 2020
Despite COVID-19 and the lockdown measures, the first round grantees of our IGNITE! Empowerment Grants programme supported by COC Nederlands did not let the pandemic stop them from implementing their projects for LGBTIQ adolescents and youth in the Philippines, Bangladesh, India, Vietnam, and Sri Lanka. The grantees were asked to revise their project, as needed, to adapt to the current situation in their localities and countries with the on-going pandemic. 
The process was a learning opportunity for both Youth Voices Count (YVC) and partners to adapt to the changing times. Many of the grantees utilized the opportunity to support local communities in coping with COVID-19. Most importantly, health and safety measures were applied to all implementation activities to protect the partners and participants. 
This week, we check in on the five grantees of our IGNITE! Empowerment Grants program, featuring some of the work they have done since April 2020.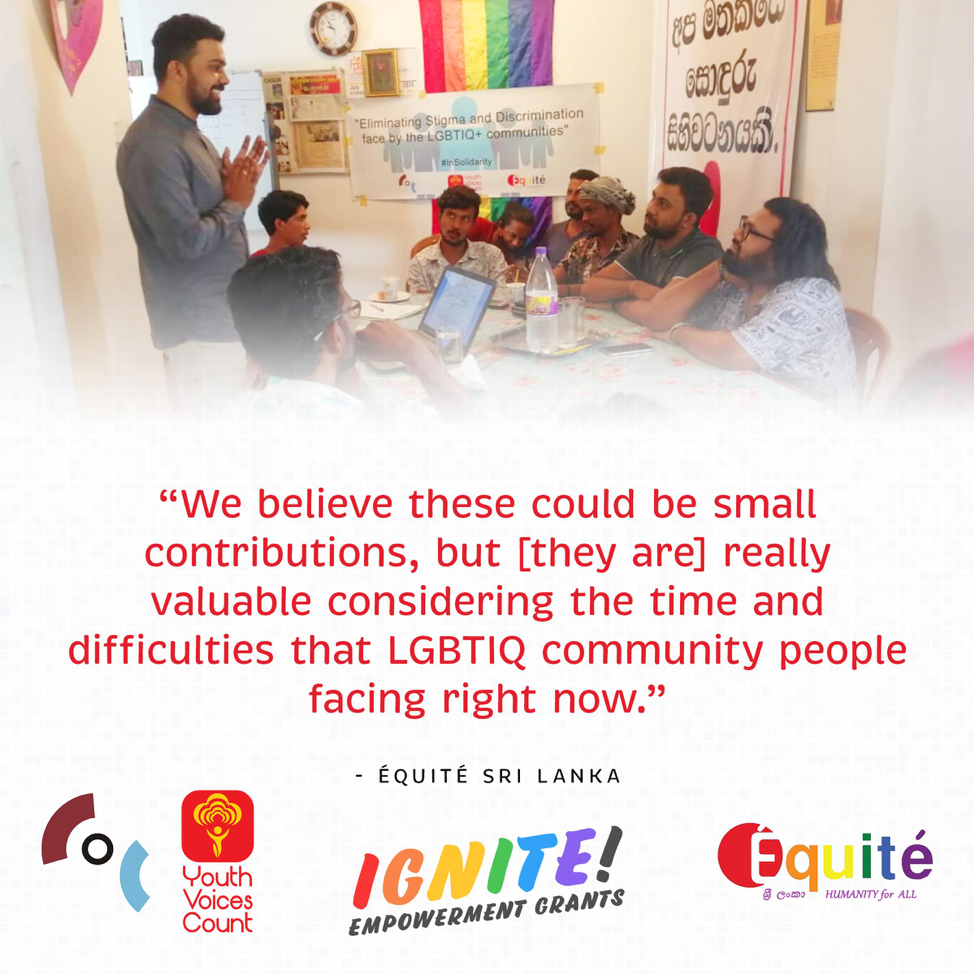 After successfully doing their online campaigns for IDAHOT 2020, here's what Équité Sri Lanka has to say about their ongoing work with Youth Voices Count:
"IGNITE Empowerment Grant helped Equite Sri Lanka in two ways. Firstly, this grant helps [us] collect information on Stigma and Discrimination faced by the LGBTIQ community, which leads us to policy development and future advocacy plans. Secondly, through this grant we helped 14 LGBTIQ community persons who faced financial difficulties during the lockdown period. We helped those community members by providing essential grocery items and parcels. We believe this could be small contributions, but [they are] really valuable considering the time and difficulties that LGBTIQ community people facing right now."
The next team we featured was UniGEN – Leave No One Behind from Vietnam.
Launching their website alongside implementing awareness activities for their fellow queer youth, UniGEN continues its projects under the IGNITE! Empowerment Grants program amidst the pandemic situation.
"As a grassroots organization in Vietnam, we appreciate having this privileged opportunity to create a safe space for the queer youth community. This space aims to accompany and support them to reflect on their values to promote the love of self, inclusion, & tolerance.
Besides, to UniGEN, the IGNITE! Empowerment Grant has indeed empowered the young and marginalized communities. This project has brought [together] individuals of unrepresented communities [and] let them work together with the hope of bringing [better self-love] for all queer youth in Vietnam."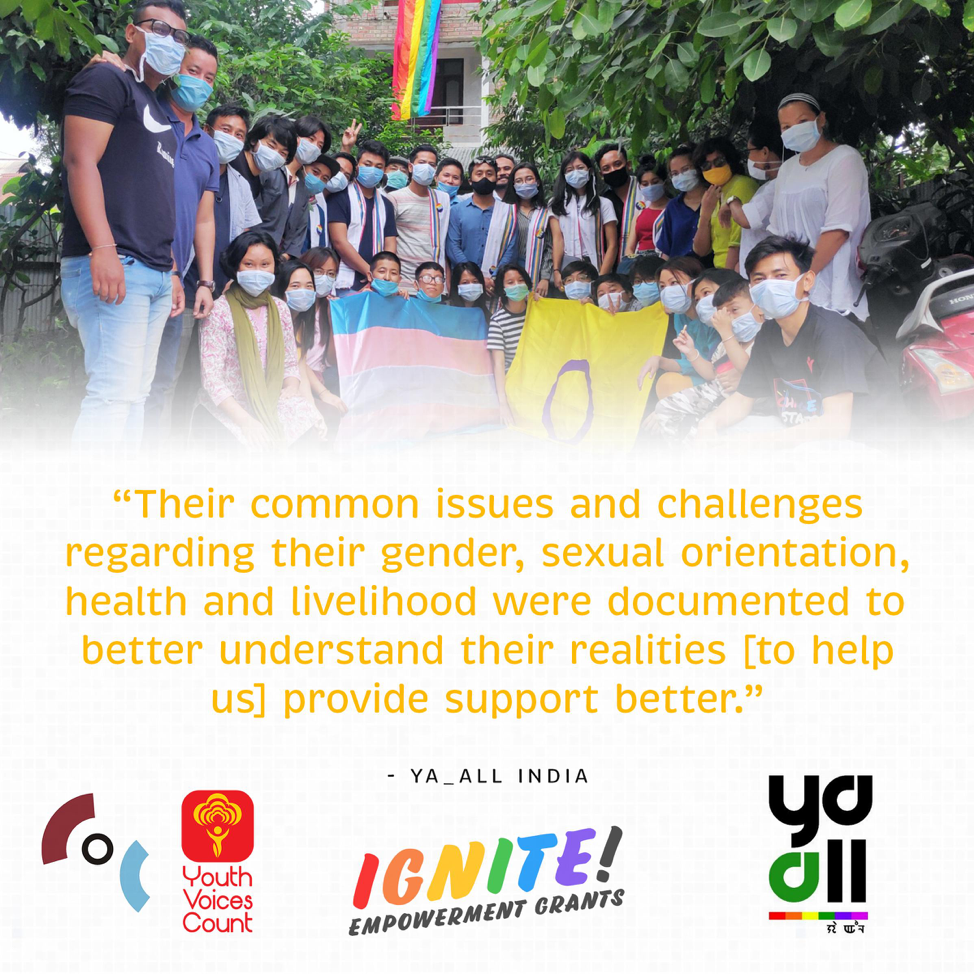 The IGNITE! Empowerment Grants programme also supported the work of Ya_All from India.
Despite lockdown and quarantine measures, our grantees continue to find ways. Ya_All provides comprehensive sexuality education and awareness and services on SRHR, mental health and well being of the young population through available platforms alongside online psychosocial support and telecounseling services.
"In the last two months, the project has been able to reach 200 young populations from the LGBTQ communities and provided [them] with hygiene kit support. Psychosocial support has also been provided through tele-counselling services.
We have been able to conduct case studies for 22 youths from LGBTQ communities. Their common issues and challenges regarding their gender, sexual orientation, health and livelihood were documented to better understand their realities [to help us] provide support better.
Struggles of the youth in LGBTQ communities are intersected at many points. There is often lack of family support, cases of HIV, discrimination from society, non-gender-inclusive infrastructures (toilets) and rules of schools (strict school uniform) and colleges that not only cause immense discomfort but also [are] a huge hindrance in their mental wellbeing and education. This eventually limits their skills and knowledge to engage in various ranges of livelihood activities. During the lockdown, their small businesses like beauty salons had to stop running, [resulting] in financial instability."
Inclusive Bangladesh was our fourth IGNITE! Empowerment Grants organization to be featured.
The employability skill development book by Inclusive Bangladesh is in the works and their organization hopes to deliver these soon to LGBTIQ individuals to provide them technical support on finance.
"Beyond the potential health issue, COVID-19 became an overwhelming threat to our societies, economy and people of diverse gender which needs to be acknowledged and with this acknowledgement we amplify the stories of rural Bangladeshi LGBTIQ+ who have lost their parents, siblings, scope of education and only ways of livelihood. In these circumstances, Inclusive Bangladesh was glad to promptly initiate its dynamic employment skill development project with the Ignite Empowerment Grant to make sure that those affected LGBTIQ+ people can survive this pandemic by getting an initial earning source through obtaining technical and financial support and make the community stronger."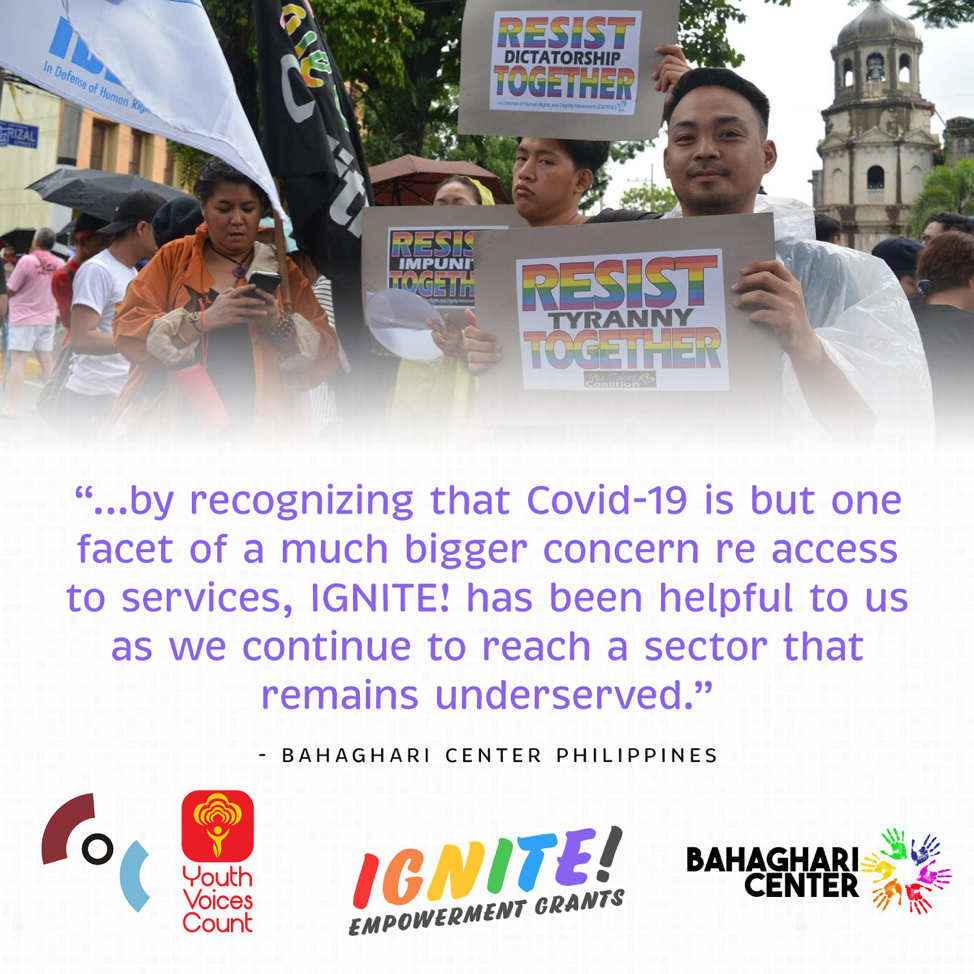 Last but not the least of our IGNITE! Empowerment Grantees, Bahaghari Center from Philippines started with their campaign #CantStopPride that discussed the fight for LGBTIQ rights amidst the COVID-19 pandemic.Their next activity will be to develop brochures on localized SOGIESC and LGBTQ terminologies.
"It is understandable that the whole world's focus shifted to Covid-19 when the pandemic hit us all. But as we are now establishing a "new normal", we are seeing that many of the intersectional issues have been neglected; and part of this is the promotion of LGBTQIA human rights, whose situations were already bad but in many instances, were worsened by Covid-19. For us, by recognizing that Covid-19 is but one facet of a much bigger concern regarding access to services, IGNITE! has been helpful to us as we continue to reach a sector that remains underserved.
We know that there are LGBTQIA couples not given the same benefits as heterosexual couples because their relationships are not legally recognized. And there are LGBTQIA youths who experience abuses at home as they are forced to stay there because of the lockdowns. Many LGBTQIA people working in informal sectors lost their means of living. These are but some of the people who need help with or without Covid-19; and when funds are made available to service them, then at least somehow, we reach them in a time of dire need."
All this and more information can be found on our Facebook page and the official Youth Voices Count website. Over the next few months, they will continue their project implementation under the auspices of the Youth Voices Count regional secretariat. To learn more about our IGNITE! Empowerment Grants programme, you can contact YVC via email at secretariat@learninghub.yvc-asiapacific.org
© 2020 Youth Voices Count